The Pomeroy Seminars and Practica are required
for all academic students.
Every student in the Masters program must have 12 units of Wardell B. Pomeroy Lecture Series, every student in the Ph.D. and Ed.D. programs must have 16 units and every student in the D.H.S. program must have 16 units.

#561 PRACTICAL SKILLS WORKSHOP 1 Unit

Concentrates on learning skills rather than theory. Included are the use of media, massage, psychodrama, exercises, fantasy, development, body awareness, communication skills, why the SAR process works, and how to run a sex workshop.

The following courses are not required for all students, but some may be required for specific objectives, e.g., counseling or therapy. In some courses books may be assigned, in others a paper integrating what the student has learned may be required. Some of the courses are on DVD and may be viewed by the student at the Institute or, by special arrangement, at home. Students must contact faculty before beginning a DVD course. Other courses will be given from time to time, either around the Wardell B. Pomeroy Lecture Series block of courses or at another time during a trimester. Students are urged to choose elective courses covering those areas in which they feel they are the least knowledgeable.
If students wish to do work in areas not covered by the listed courses, they may do so with the written approval of a faculty member. Courses may be added, deleted, or changed as deemed appropriate by the Institute and based upon the needs of the students.
#331 SEX EDUCATION PROGRAMS 1 Unit
A variety of sex education programs are presented by leaders in the field of sex education. Populations dealt with include children, adolescents and adults. The course gives a broad background in a variety of methodologies.
#402 HISTORY OF SEXOLOGY 1 Unit
An introduction to the history of the rational and systematic investigation of sexual problems from ancient Greece to contemporary Europe and America. Among the historical figures covered are Hippocrates, Soranus, Galen, Ibn Sina, Leonardo da Vinci, Fallopio de Graaf, de Sade, Malthus, Kaan, Morel, Magnan, Burton, Krafft-Ebbing, Schrenck-Notzing, Ellis, Freud, Forel, Bloch, Moll, Hirschfeld, Steinach, Reich, Kinsey, and Masters and Johnson.
#411 RESEARCH DESIGN AND IMPLEMENTATION 2 Units
A basic course for students needing to learn about, or review, design and research methods and elementary statistics.
#421 SEX HISTORIES: INTERVIEWING AND CODING 2 Units
This course has two facets. The first is concerned with how to obtain sexual and social information from a wide variety of people. This will be done through role playing in the classroom and practicing with others outside the classroom. The techniques developed at the Institute for Sex Research (where over 18,000 sex histories were taken) will be used. At the same time, a system of coding these data will be taught by which the equivalent of 25 typewritten pages can be recorded on one 8.5" x 11" sheet. This course is of particular interest to therapists, sex educators, anthropologists, and sociologists.
#430 SEXUAL ANTHROPOLOGY 1 Unit
A look at the ways that sex is shaped by culture from tribal to industrial societies. Topics include culture and biology, sex and aging, rape, gender, sex and power, sex and family structure, male and female menopause, and puberty rites.
#501 CONCEPTS AND METHODS OF SEX THERAPY 1 Unit
This course includes basic counseling skills, a survey of historic methods of sex therapy, and an extensive examination of current sex therapy methods and procedures. Several different philosophies of sex therapy are compared. On DVD.
#502 HISTORY AND THEORY OF THE HELPING PROFESSIONS 1 Unit
A survey course of the history, philosophy and justification for the establishment of the major helping professions in the 20th Century and the theoretical framework in which they continue to exist as socially valuable. The evolution of clinical sexology.
#504 METHODS OF SEX THERAPY 2 Units
A review of sex therapy techniques, how they were developed, the rationale for their use, implementation strategies, and assessment of effectiveness. Comparisons among the different theoretical approaches will be stressed to allow the student to develop an eclectic approach. Role playing techniques with an emphasis on the resistant client will be used. A paper will be required.
#505 CLINICAL SEXOLOGY: A DEVELOPMENTAL PERSPECTIVE 3 Units
An introductory survey course beginning with the historical and theoretical roots of the discipline. Considers the developmental sequencing of sexual systems from the subcellular to the social levels. The course provides a foundation in the basic biomedical and psychosocial sciences essential for clinical practice. #101 and #201 are prerequisite.
#506 CLINICAL SEXOLOGY: CLINICAL SYNDROMES 3 Units
A systematic examination of the clinical syndromes in the areas of sexual dysfunction, sexual disorder, and gender dysphoria which the clinician will encounter in practice. The approach will continue the developmental perspective of #505 and focus on behaviors, cognition, phenomenology, value structures and social scripting as they apply to syndrome development and expression throughout the life cycle. #101 and #201 are prerequisite.
#507 CLINICAL SEXOLOGY: THERAPEUTIC INTERVENTIONS 3 Units
An examination of the process and techniques of differential diagnosis and treatment of sexual problems from the perspective of major models of clinical sexology. The emphasis of the course is on gaining the practical skills necessary to diagnose and treat sexual problems in clinical practice. #101 and #201 are prerequisite.
#511A CLINICAL SEXOLOGY (SUPERVISED) 4-8 Units
A counseling practicum under supervision requiring 100 classroom hours and 100 hours of seeing clients. Entrance to the course is by permission of the instructors. Students will be required to make case presentations; the course will include role playing, general discussion and didactic information. Course prerequisites may be required.
#511B CLINICAL SEXOLOGY (SUPERVISED) FOR NON-RESIDENTS 1-8 Units
A counseling practicum as above, except under the supervision of a sex therapist who is not a member of the Institute's clinical faculty. Approval of the supervising therapist by the Institute clinical faculty and documentation of cases to the clinical faculty are required. The amount of credit given will be determined by the clinical faculty when the work is evaluated.
#515 SMALL GROUP FACILITATION 2-4 Units
For students who wish to facilitate a small group during SAR #311 (4 units), or Practical Skills Workshop #561 (2 units). Prerequisites are prior small group leader experience, prior attendance at the practicum in question, and permission of the instructor. Full-time attendance and participation in the practicum is required. Facilitators will be supervised during the time of the workshop.
#517 SEXUAL PLEASURE EDUCATION 1 Unit
Tapes in this course are useful on a personal basis as a therapeutic tool with clients. Includes strategies for a better sex life, sex aids, sexual approaches, male and female pleasuring. Paper required as outlined in the study guide. On DVD.
#521 SEX, ANATOMY AND PHYSIOLOGY 1 Unit
A technical look at the body and its sexual function.
#522 BASIC GYNECOLOGY FOR SEXOLOGISTS 1 Unit
A survey of the anatomy and functioning of the female genitalia; physiological etiology of sexual dysfunction; impact on functioning of medications, sexually transmitted diseases (including treatment), and surgical techniques.
#523 BASIC UROLOGY FOR SEXOLOGISTS 1 Unit
Sexological implications of medical interventions, i.e., penile implants, hormone injections.
#525 SOCIAL EPIDEMIOLOGY FOR SEXOLOGISTS 2 Units
An examination of the distribution and determinants of various states of health in populations, including HIV/STI. On DVD.
#576 SEXOLOGICAL BODY THERAPY 3 Units
A 50-hour course in basic massage.
#581 ADVANCED TECHNIQUES IN BODY WORK 6 Units
A practicum stressing the value of various body work techniques for persons intending to work in the field of sex therapy and counseling.
#585 ROLE PLAY AND PSYCHODRAMA TECHNIQUES 1 Unit

Discussion of the theory of role play and psychodrama techniques followed by demonstration and practice. Aimed at assisting sexology students with interpersonal and intrapsychical issues that may come up in counseling, therapy and education classes.
#601 MEDIA REVIEW 3 Units
A thorough review and analysis of sexually explicit material with particular emphasis on films and videotapes in the archives of the Institute. Coding of sexual activity will be taught and used. 15 classroom hours, 30 hours film/tape viewing and coding.
#605 ARCHIVAL CURATION 1 Unit
This is an individual course of study which focuses on the method and application of preserving the material in the Exodus Trust Archives of Erotology. It involves sorting, identifying, preserving and transferring material to a video or slide format as well as entering the material into a computer data base.
#611 PRACTICAL USES OF MULTI-MEDIA TECHNIQUES 1 Unit
Explores the historical and current relation of sex and media. Various hardware and software media options will be demonstrated and discussed as to how they relate to sex education and therapy.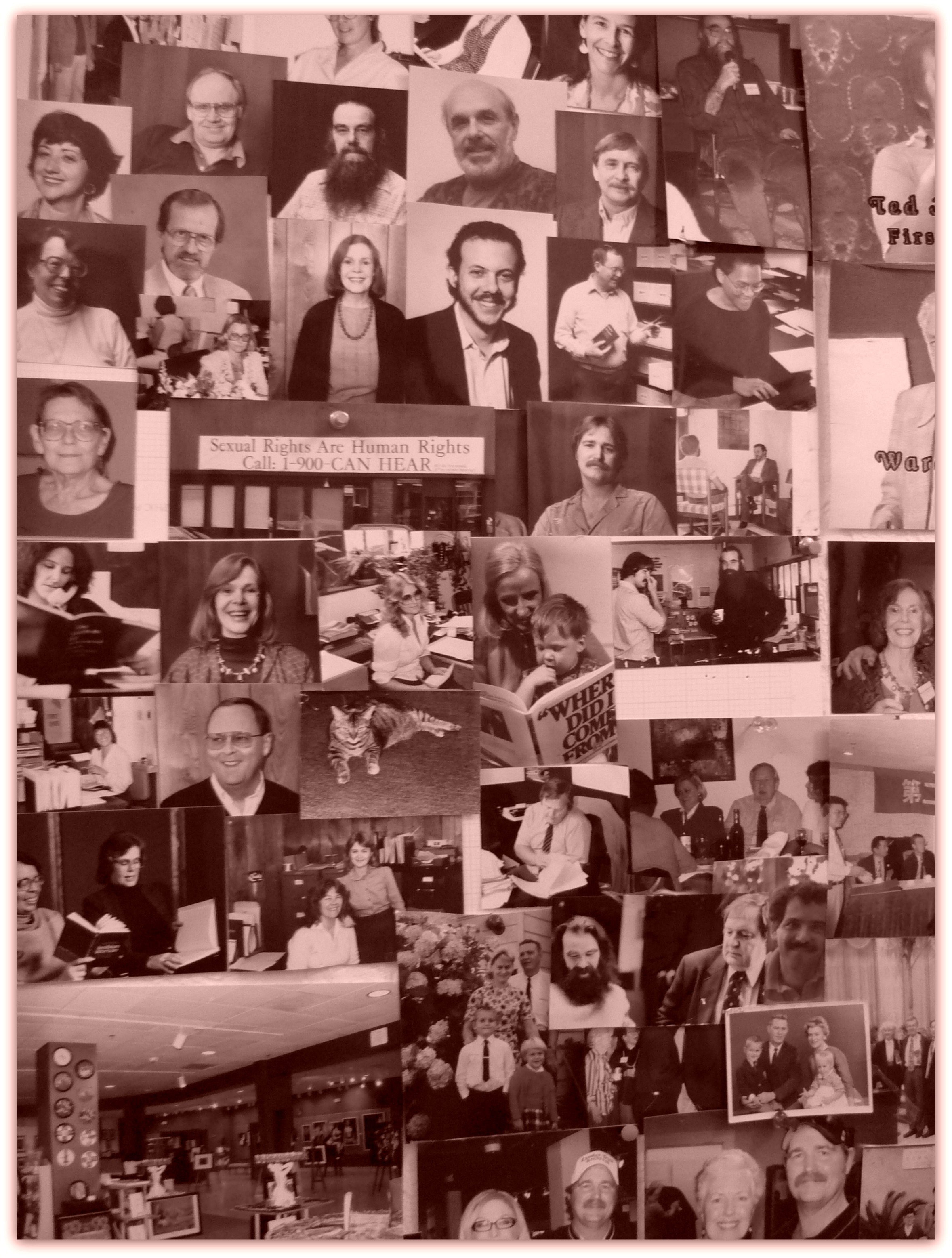 #612 MEDIA PRODUCTION 3 Units
Explores the process and production of a multi-media project by the members of the class. 15 classroom hours, 30 hours outside class over a six-week period. Course #611 is a prerequisite.
#613 SEXUAL ARTIFACTS 1 Unit
A sexological exploration of objects which have been created in response to sexual desire and experience. Sexual artifacts, e.g., erotic playing cards, postcards, music, painting and sculpture, will be examined within their historical and cultural contents.
#644 ADOLESCENCE AND SEXUALITY 1 Unit
Physical and psychological aspects of adolescent sexual development and activity.
#651 ATTITUDES TOWARDS SEX AND DISABILITY 1 Unit
This course examines various disabilities including physical (and "invisible" disabilities), acquired and congenital, and mental health issues. Discussions and guest speakers, videos and role-play are combined to educate the student about the historical background and fight for disabled rights (ADA), the issues of chronic illness/pain, the challenges and impact of disability on family, relationships, lifestyle and sexuality.
#655 SEX, GERIATRICS, ILLNESS AND DISABILITY 1 Unit
An examination of the sexual potential and rights of older persons, disabled persons and those suffering from chronic illness. A general survey of the myths concerning these classes of people.
#677 MALE AND FEMALE HOMOSEXUALITY AND BISEXUALITY 1 Unit
A course designed to expose the student to the range of diversity of women and men who identify as homosexual or bisexual. In addition to basic reading, the student will hear from gay men, lesbians, and bisexual women and men about how they perceive their lives both personally and politically; the joys and problems encountered. Discussions will include sexuality, safer sex issues, coming out, parenting, myths and realities, history, and the legal ramifications of leading alternative lifestyles.
#701 SEX AND SOCIETY 1 Unit
An examination of human sexuality in various societies including contemporary society. Among the topics covered are the social role of men and women, conformity and deviance (moral, legal and medical), marriage and the family, the sexually oppressed, sex education and sexual ethics. On DVD.
#711 SEX, RELIGION AND THE LAW 2 Units
A survey of sexual oppression in our society in relationship to the law. Included will be a careful examination of the Commission on Obscenity and Pornography report as well as the history of religious attitudes toward sexual behavior and their influence on the law.
#715 SEXUALITY, RELIGION AND POWER 1 Unit
Students will develop an ability to analyze sexual issues as they relate to religion, to create options for choice and strategies for dealing with power tactics, and to develop a professional commitment that may affect sexual change in cultural values.
#721 FORENSIC SEXOLOGY 1 Unit
The step-by-step process involving the place and purpose of the sexologists in court proceedings.
#731 SEX AND RELIGION 1 Unit
A historic and current look at the many and varied ways in which Western and non-Western religions view the role of human sexuality.
#741 SEX AND ETHICS IN THE HELPING PROFESSIONS 2 Units
Ethical issues between client and practitioner examined in the context of the history and development of sex counseling, therapy and education.
#791 ANALYSIS OF THE KINSEY REPORTS 1 Unit
Co-author and Institute Academic Dean Emeritus Wardell B. Pomeroy discusses SEXUAL BEHAVIOR IN THE HUMAN MALE (1948) and SEXUAL BEHAVIOR IN THE HUMAN FEMALE (1953) chapter by chapter, summarizing and explaining the data. Male and female data are compared in terms of age, educational level, age at puberty, prepubescent sexuality, rural and urban differences, etc. Both volumes should be read before taking the course. On DVD.
#801 THE SEXUAL VARIATIONS 1 Unit
An examination of how people have organized their sexual lifestyles including communal living, swinging, S/M, group marriage and living single.
#811 BISEXUAL AND ANDROGYNY 2 Units
A survey of the emerging concepts of bisexuality and androgyny, including theory, social attitudes, literature and resources.
#821 CHILDREN AND SEXUALITY 1 Unit
Emphasis will be on children's awareness of their bodies and sexual feelings in an exploration of the growth and development of children from birth to adolescence.
#825 CHILD SEXUAL ABUSE: A PEDIATRIC PSYCHOSEXUAL FOCUS 1 Unit
Theoretical and practical approach to understanding the impact of sexual activity in childhood. Specific methods of dealing with age-appropriate sexual interest and behavior, and inappropriate or traumatic sexual experiences.
#831 GENDER IDENTITY 1 Unit
A two-part survey of (1) the field of gender dysphoria (transsexualism) and (2) transvestism. Emphasis will be on understanding and clarifying the two fields, on resources, and on concerns arising in counseling. On DVD.
#841 SEX OFFENDERS 1 Unit
A historical overview of the development of the medico-legal concept of sexual psychopathy and how the "sexual psychopath" statutes have applied. The course will also include a review of the treatment methods, the concept of dangerousness, and the basics of differential diagnosis. On DVD.
#902 WOMEN'S GROUPS 4 Units
A two-part practicum on how to direct groups for women who are preorgasmic or not orgasmic with a partner. The first session, #902A (2 units), is the leadership training. The second section, #902B (2 units), is supervised leadership of a women's group.
#950 MALE HOMOSEXUAL EROTICA 1 Unit
An exploration of historic and modern visual materials from the 19th and 20th centuries. Students learn methods of homoerotic critique.
#957 SEX AND CONTEMPORARY
LITERATURE 2 Units
A survey course on sex as presented in literature available in the contemporary marketplace.
#960 HISTORY OF EROTICISM 2 Units
A survey course covering erotic antiquity, the Middle Ages, Victorianism and modern times. 60 hours of video.
#965 DIRECTED RESEARCH & VIEWING 2 Units
100 hours of classic historic videos and films, and 100 hours of classic erotological literature. All materials annotated. This course must be planned in consultation with an instructor.
#970A EROTOLOGY AND SEXUAL CULTURE 2 Units
An in-depth exposure and evaluation of erotic expression and use in the last half of the 20th Century. 60 hours of video.
#970B EROTOLOGY AND SEXUAL
CULTURE 2 Units
A continuation of #970A.
#980A EROTOLOGY APPRAISAL 2 Units
#980B EROTOLOGICAL EVALUATION AND APPRAISALS 2 Units
A continuation of 980A.
#980C EROTOLOGICAL CURATION AND APPRAISAL PRACTICUM 2 Units
#980D WORK STUDY IN EROTIC FINE ART CURATION 2 Units